Further detail on Peer Mentors
CLDSC Peer Mentors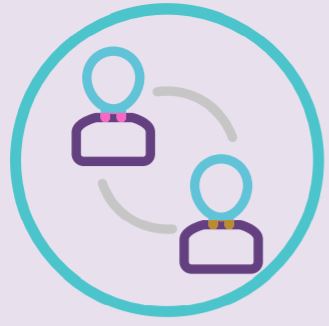 This concept is based on the experience of two CLDSC members, Sue Briggs and Dominque Carlisle-Kitz who formed a peer relationship supporting each other as leaders in the design and delivery of CLD services. Their understanding of leadership is that it is not about your place in the organisations but about your role. Sue and Dominique want to share the benefits of such a relationship with colleagues and have produced a paper which captures the process.
Download: Peer Mentoring 2020
The Competent Practitioner Framework describes a competent and critically reflective practitioner, the attributes, the values and principles of CLD, the 7 competences and the Code of Ethics under which CLDSC members operate. These bring both rights and responsibilities. In the context of a peer mentoring relationship these would include the right to a safe space to share practice and the responsibility to challenge practice. This is a professional development role and your peer mentor needs to be more than a friend and/or acquaintance and/or colleague. Mutual respect has to be a given.
This is a member-led process but given the additional pressures facing our membership at the moment, CLDSC are keen to help progress this as quickly as possible.
CLDSC's main role is in promoting the idea and encouraging those who have found it helpful to share their stories. We will set up a platform for this soon.
You choose to be involved and you approach another CLDSC member with whom you feel you could have this kind of peer mentoring relationship. As a member of CLDSC, the person you approach should know something about this concept and be in a good position to decide if this is something they want to do. You could also refer them to the website for more information if they are not sure. .
While it is mostly over to you now, CLDSC would welcome any ideas about how to promote and develop this concept. Please get in touch through contact@cldstandardscouncil.org.uk
Last modified: Tuesday, 1 December 2020, 6:35 PM