Further detail on Connectors
CLDSC Connectors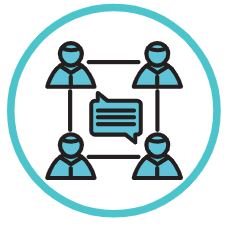 Following the use of SLACK by members to plan and prepare for the Virtual Meet Ups, this medium has been adopted by a wider grouping of members and expanded over new areas of interest. We also know that members provide information and support for each other using other media such as Twitter and Instagram.
CLDSC has no formal role in these communications, but we want to encourage you to support each other in this way by identifying yourself as a CLDSC Connector on the social media platforms you use, thereby highlighting your openness to connect with and support and learn from others.
Members are invited to use the hashtag #CLDSCConnector to indicate they are open to being contacted by other members. We have also established a CLDS Connector Channel on SLACK.
This is an informal member led activity. CLDSC's main role is in initiating and promoting the concept. However, we also intend to create a space for Connectors to share their experiences and what they are getting out of it.
In the meantime, any thoughts and ideas on how to further develop and promote CLDSC Connectors would be very welcome. Just get in touch through contact@cldstandardscouncil.org.uk
Last modified: Tuesday, 1 December 2020, 6:35 PM